News - April 2005
Easter Thunderball (Santa Pod)
Where Did That Come From?
After the long winter wait we (for once) got our act together and were ready to go - mainly due to the fact that we have made no major changes to our 2004 set-up.
Unfortunately we were without two of our regular crew from last year Chris & Clayton but Marc and Neil have come on board to help out.
Saturday
1st Qualifying Session - Ring rust sets in - had the staging rpm too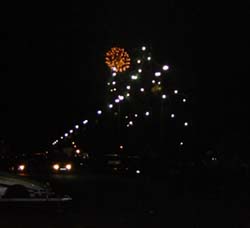 high and crept through the lights - first session wasted - never mind there's plenty left .....
2nd Qualifying Session - Due to various hold-ups during the day the 2nd session was run just as it was getting dark and it was approaching the dew-point - I found that out when my visor completely misted over in pre-stage! I left the line with a good 60' but by the time I got to the 300' mark I was in real danger of crossing the line and into Trevor Capewell's lane, as he was right alongside it seemed to be a good idea to shut-off at that point! - we coasted through at 7.8 but at least we were qualified #2 amazingly enough as nobody else could get down the track with the exception of Trevor who ran an amazing 6.26 under those conditions.
Sunday
3rd Qualifying Session - Again the weather/track conditions were not at their best but we decided as sessions were running out we had better go for it - unfortunately our clutch tune-up was a bit too aggressive and quite a few people reported that the tyre shake was extreme - all I can say was that it wasn't all that pleasant from where I was sitting especially when the motor quit and shreds of blower belt came falling from the sky!
On returning to the pit it was even worse the motor plate looked like it had been in a huge press and effectively punched the engine/transmission back towards the back axle about 5mm, fortunately it was not misaligned and did not look in any immanent danger of failing but we decided we had had quite enough for one day and sat the last session out - the one where everyone went quick!
Monday - Finals Day
Rather predictably we had dropped from #2 to last qualifier which meant we were up against Dave Wilson's (quickest outside the USA) dragster in the fist round.
I managed to get a hole shot away from the line and we were in in front until just about the 1/8th mile marker - although I could not see Dave, I could hear him - so I thought either he is in trouble or we are on a good one - then I thought no, this is a good one - Dave just came in to view as we approached the finish line so I knew we had lost the race then when I stopped a fireman started blasting his extinguisher all over the engine - I rather innocently enquired as to what he was doing - then I saw all the oil covering everything behind me - but even that couldn't dampened the news when the crew came up with the timing ticket - we had run 5.7 - at last the number we (even if nobody else did) knew was in the car had materialised.
The news was even better when after a quick check over in the pits there appears to be no major engine damage - all will no doubt be revealed over the next few days when I strip the motor down completely.
Click on image for more race photos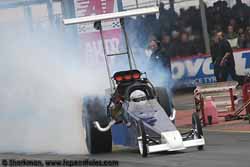 ---
Special Thanks to the following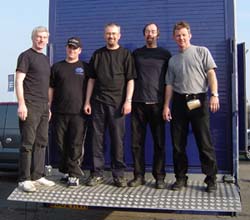 My crew - Tony, Richard and new boys Marc & Neil
Trevor Capewell - who inadvertently became our battery sponsor
---
Links to "Old News":-